Commercial Space
Management
A major part of JR East's lifestyle business in Tokyo, Japan is the management of commercial retail spaces that are along the train stations. These real estate projects include the management of 'Ekinaka' (in-station) retail space for potential lifestyle businesses, as well as shopping malls.
We aim to bring the retail and F&B space closer to the daily lives of the public. Taking advantage of the characteristics and strategic location of the stations in the region, we hope to provide a shopping space that are convenient for the consumer while commuting.
With the experiences we have on commercial space management such as tenant leasing and daily operation, SEABD is seeking to develop new businesses opportunities in Singapore and other Asia market.
Thomson-East
Coast Line

In August 2019, Singapore Land Transport Authority (LTA) awarded the retail space operation tender for Thomson-East Coast Line (TEL) to a three-way consortium comprising SMRT Experience Pte Ltd, SEABD and Alphaplus Investments (an investment company of NTUC FairPrice Co-operative Ltd.)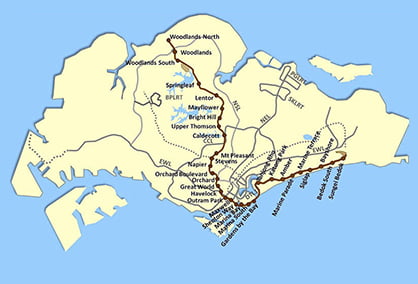 As a member of the consortium, SEABD contributes to the project by offering JR East's mall and 'Ekinaka' (in station) management experiences. Especially in the Woodlands TEL station which will open in 2020, both JR East and SEABD play a key role in the development and operation of its retail zone.
With this development, SEABD is constantly seeking new opportunities of 'Ekinaka' and shopping mall management in other Asia cities.