17 Apr 2019
JW360° by JR East Opening Its Doors at Jewel Changi Airport, Singapore
Discovering Japan's Way of Life Through Food and Retail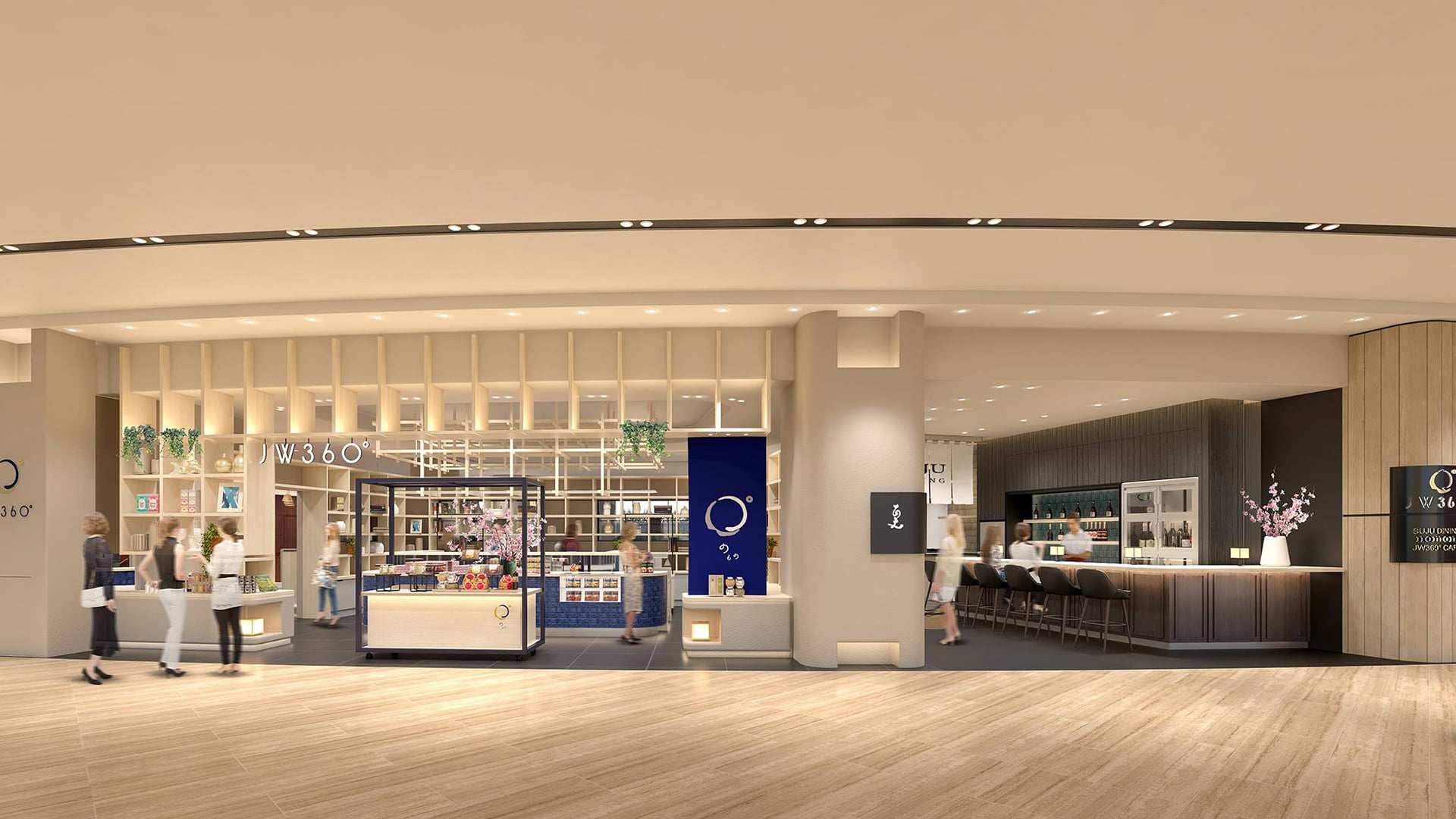 Singapore, 17 April 2019 – A new wave of Japanese concept stores, JW360°, will open its doors on 17 April 2019 at Singapore's new retail lifestyle hub, Jewel, situated at Changi Airport. JW360° is an abbreviation for Japan Way Three Sixty. Operated by the JRE GF Food Service Pte.Ltd., JW360° is a local joint venture company of JR East's Singapore subsidiary and Mitsui & Co. Ltd. local subsidiary.
Owning a 486 square meter premise and accommodating up to 140 seated customers, JW360° is a concept store consisting of three operating divisions – Restaurant, Café and Retail. Penetrating the local market, JW360° aims to capture local customers and travellers around the globe and establish a 'gateway' to Japan's lifestyle and culture to consumers through its food and retail products.
JW360° restaurant segment is operated by Suju Masayuki, a Japanese restaurant running 7 stores in Japan and 1 in Orchard, Singapore. Following the Japanese methods of cooking, it's menu boasts a four-season concept provided by Suju Restaurant for patrons to satisfy their sophisticated palate. Diners will be introduced to signature dishes such as Hamburg Steak with miso-demi-glace sauce, Soup using Suju's originally blended miso together with rice cooked with bronze pot which are handmade originally for Suju in order to enhance the flavour and aroma of the rice. Other well internationally renowned spreads such as Tempura, various types of Tonkatsu (Japanese style cutle such as pork, chicken breast / high cutler, shrimp etc), Teishoku, Bento, and Donburi will be available on the menu following Suju's classic twist. As such, aside from Singaporeans, overseas travellers at Changi Airport can stop by to have a taste of 'Japan'. The restaurant's interior design is uniquely simple with tableware selected from regions of Japan to present the dishes.
JW360° café corner caters to customers with a sweet tooth or craving for a simple tea break while waiting for their next flight. The café provides a range of such as cakes and gelato using Japanese ingredients such as matcha and wasanbon etc.
Apart from the restaurant and cafe, Nomono, which is the JW360° retail corner, is renowned for procuring snacks and the best souvenirs from all over Japan. Having established three outlets in major stations within the Tokyo metropolitan areas such as Akihabara, Ueno, and Tokyo stations, the store that is soon to kick-start in Singapore, will offer a range of assorted Japanese sweets and snacks bursting with flavours of Japanese origins, known as 'Oyatsu Times', popsicles and Japanese sake with creative and unique packaging. A go-to selection is their zesty Apple Chips, which consist of raw apples being air-fried so as to not use lose its flavour for a healthier and beier quality taste. Other scrumptious signature snacks being sold is the "Hagi no Tsuki Custard Cream Cake", a sol sponge cake with custard cream filling, originating from Sendai, one of the largest Tohoku regions in Japan, and the "Mount Fuji Shape Rice Cracker Box" , which is an authentic Hand-baked rice cracker shaped like Mount Fuji, that come with flavours tying in with the four seasons - spring, summer, autumn and winter.
JW360 (Japan Way Three Sixty)
Address: #01-223/224/225, Jewel Changi Airport (Nearest Terminal: T1)
Opening Date: 17th April 2019
Business hours: 9am-11pm daily
Tel: (Retail) +65 6242 8377 I (Restaurant) +65 6243 2466
Follow us on Facebook https://www.facebook.com/JW360Singapore/
About JR EAST Group
The operator for trains including Shinkansen (high speed bullet train) in the East region of Japan, East Japan Railway Company (JR East) is the largest passenger railway company in Japan, serving about 17 million passengers daily. Apart from the main railway business, JR East Group also operates a variety of lifestyle businesses such as shopping malls, retail shops, restaurants, hotels, as well as office building management.
Outside Japan, JR East has a presence for its lifestyle business unit with the establishment of JAPAN RAIL CAFE in Singapore (2016) and Taipei, Taiwan (2019). In last December, JR East also added a pop-up thematic project "INSPIRATION STORE" at Orchard Xchange to its retail/F&B porxolio in Singapore.
To learn more, visit the official website: https://www.jreast.co.jp/e/
Media contacts:
Fujimoto Yuta [email protected]
Kinoshita Kentaro [email protected]
This press release is issued by Vector Malaysia on behalf of JW360.