01 Jul 2022
Thomson-East Coast Line's Stellar@TE2 Retail Space Launches at Woodlands Station with Strong Community Ties
Marsiling-Yew Tee GRC and Republic Polytechnic are among community partners at the new retail space launched today at Woodlands MRT station on the Thomson-East Coast Line (TEL).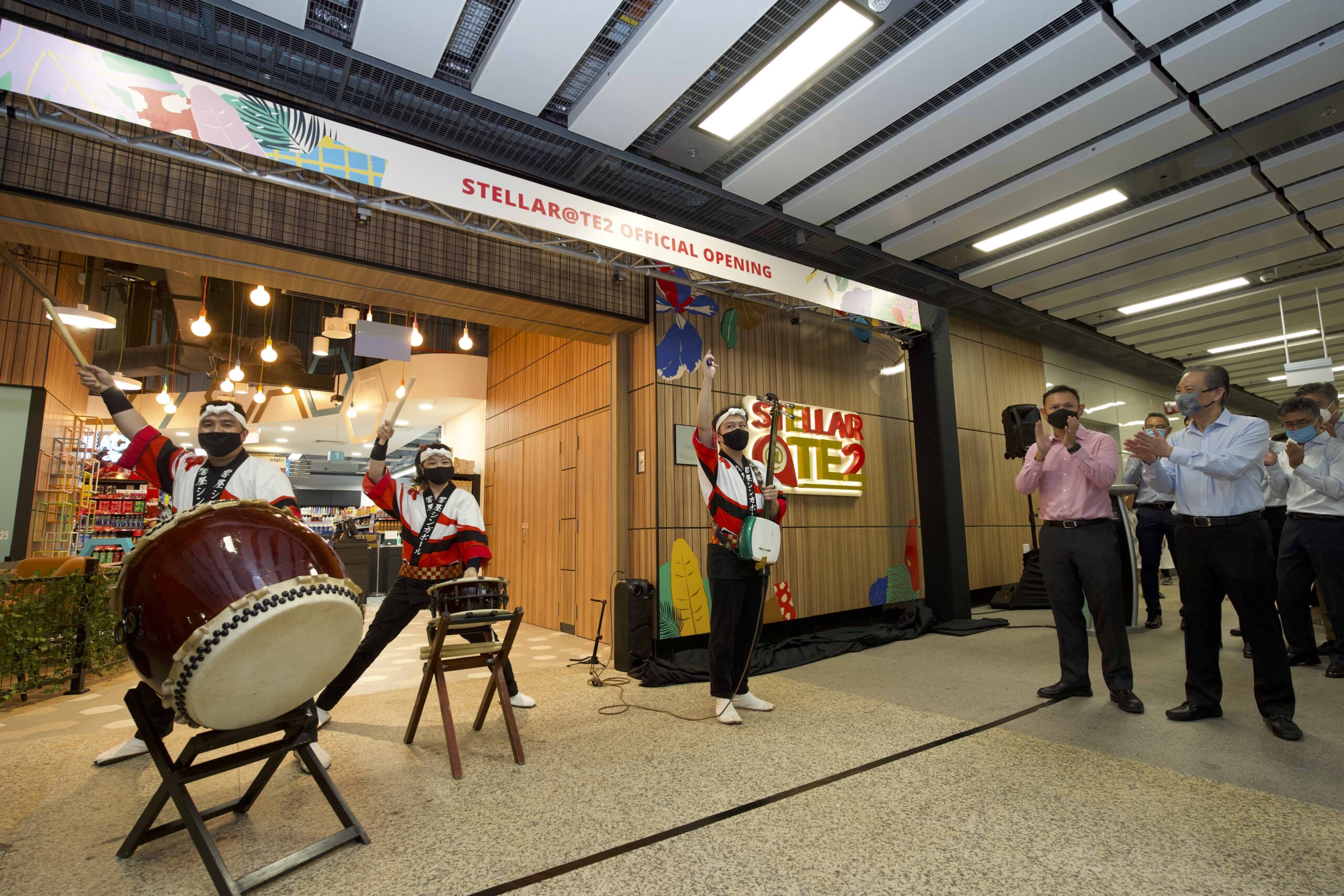 Marsiling-Yew Tee GRC and Republic Polytechnic are among community partners at the new retail space launched today at Woodlands MRT station on the Thomson-East Coast Line (TEL).
Stellar@TE2 has 20 tenants over 1,560 square metres, offering food and beverage options, a supermarket, beauty services, traditional Chinese and Western clinics, and a co-working lifestyle centre. A first of its kind in the MRT network, Fresenius Kidney Care, Singapore's largest private provider of dialysis treatments in the country will also open its doors here to serve the Woodlands residents.
Community pop-up tenants include a recruitment centre by Marsiling-Yew Tee GRC; a music space where members of the public are encouraged to play on a piano donated by Yamaha Music (Singapore) and decorated by Republic Polytechnic students; and ZERO by treatsure, an educational showcase and shopping experience presented by Stellar Lifestyle and DBS Foundation to bring the concept of zero food waste closer to commuters.
Mr Zaqy Mohamad – Senior Minister of State for Defence and Manpower, and Member of Parliament for Marsiling-Yew Tee GRC – graced the opening of Stellar@TE2, where invited guests enjoyed a series of performances by Yamaha Music (Singapore) and Taiko drums.
Stellar@TE2's "ekinaka", or "in the station", concept prioritises consumer-centricity, seeking community involvement and regular tenant engagement to foster a conducive environment for all stakeholders to share feedback and improve the overall commuter and retail experience.
As part of the opening activities in the month of July, visitors to Stellar@TE2 can participate in the Wink+ digital scavenger hunt.
Mr Tony Heng, President, Stellar Lifestyle, said: "We extend our appreciation to the residents of Marsiling-Yew Tee GRC for selecting the winning name, Stellar@TE2. We want to build a strong sense of community, and this is reflected in our curation of SME-led F&B staples, groceries, and medical services, to better serve commuters and communities through our placemaking efforts. For retail spaces at other MRT lines managed by Stellar Lifestyle, we have plans to refresh our lifestyle offerings, to include digital innovation from partners in the start-up space and beyond."
Mr Toshio Omiyama, Managing Director, JR East Business Development SEA, said: "Building a customer-centred environment that connects with the community and enriches their stay in the station has been a key focus for JR East in Japan. We are honoured to be able to bring the 'ekinaka' concept to the Thomson-East Coast Line in Singapore. This is a commercial space management methodology that JR East adopted to transform JR East stations into a consumer-centric place for the commuters."
Mr Chua Boon Keat, Head of Channels (Hypermarket, Finest & Cheers), NTUC FairPrice, said, "FairPrice is delighted to join our strategic partners Stellar Lifestyle and JR East to mark our first joint venture project, Stellar@TE2. The new Cheers store located here will serve to cater to and delight customers on the go – offering a good selection of ready-to-cook meals, assorted bentos and freshly baked waffles. We look forward to offering more convenience and choices with the opening of future Cheers stores along the Thomson-East Coast Line stations."
About Stellar Lifestyle
Transit Retail & Advertising Solutions
Stellar Lifestyle, a business arm of SMRT Corporation Limited, has expertise in property and retail management, media, and digital advertising solutions. We create vibrant transit destinations and lifestyle experiences to make our everyday touchpoints better. Our growing portfolio includes mall management and outdoor media & digital engagement platforms. We are also the largest managing agent of retail and advertising spaces in Singapore's rail network.
About JR East Business Development SEA
JR East Business Development SEA is a subsidiary of East Japan Railway Company (JR East). JR East is the operator for trains including Shinkansen (high speed bullet train) in the East region of Japan. It is the largest passenger railway company in Japan, serving about 13 million passengers daily. In addition to railway business, JR East Group also operates a variety of lifestyle businesses such as shopping malls, retail shops, restaurants, hotels, as well as office building management. Outside Japan, JR East has a presence for its lifestyle business unit with the establishment of JAPAN RAIL CAFE in Singapore (2016) and Taipei, Taiwan (2019).
About NTUC FairPrice
NTUC Fairprice Co-operative Ltd was founded by the labour movement in 1973, with a social mission to moderate the cost of living in Singapore. From one supermarket, it has grown to become a leading retailer in Singapore serving more than half a million shoppers daily through a network of over 380 outlets, comprising FairPrice supermarket, FairPrice Shop, FairPrice Finest, FairPrice Xtra, Unity Pharmacy, FairPrice Xpress and Cheers convenience stores. Its e-commerce portal, FairPrice online, draws over 700,000 visitors monthly. FairPrice also owns a Fresh Food Distribution Centre and a centralised warehousing and distribution company.
Source: Stellar Lifestyle
Media Contact:
Mr. Tan Xian Liang ([email protected])